Boondock's in Ramrod Key
Location Details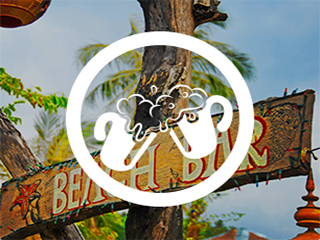 Boondock's
(305) 872-4094
27205 Overseas Highway
,
Ramrod Key
33042
Hours: Not Currently Available
If you want to have great fun, entertainment and food to enjoy your holidays in Keys, Boondock's Grille & Draft House is on the top of the list of must visit places. Especially, if you love live music or you love playing golf, you must not miss this place. Located at Overseas Highway, Ramrod Key, Boondock's has beautiful and specious area for restaurant and a miniature golf course. It is the best place to meet, chat, eat, drink, play and enjoy the hangout. It is one of the best family restaurants from Keys where there is something for everyone from kids to seniors. There is thatched roof and hut style open air bar and restaurant area. The small miniature golf course is at the left side of the restaurant. The restaurant has casual and pleasing ambiance with wooden interiors. The restaurant and bar has TV sets for entertainment of sports lovers. Boondock's offer large menu loaded with delicious dishes. Some of the favorite dishes of visitors include Crab Mac and Cheese, Cuban Conch Chowder, Fried Cheese Balls, Conch Fritters, Bang Bang Shrimps and many more. Lunch menu at Boondock's comes with starters, soups, salads, seafood and other dishes. The signature soups and salads here include cream of crab with Asparagus soup, Lobster Bisque soup and mouthwatering Spinach, Walnut and Blueberry salad, Golden Beet salad and many more. Dishes at lunch include Tuna Steak, Mahi Mahi, Fish Tacos etc. The 'You Pick Two Lunch Combo' offer is superb option for delicious lunch at Boondock's. For dinner, you can enjoy live music entertainment with local bands, musicians along with awesome food and drinks. Boondock's offers full bar with collection of beers, wines, champagnes, cocktails and other drinks. So, Have a fun and entertainment with sumptuous food and drinks and make your visit at Boondock's a memorable.
No video available.
Quick Links
Newsletter
Register to our newsletter and be updated with the latests information regarding our services, offers and much more.